We recently redesigned our leashes & received this wonderful review: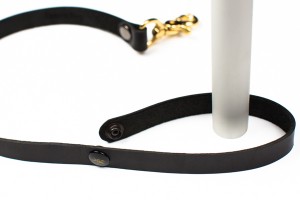 "Extremely fast shipping and gorgeous packaging. The leash was perfect in every way and I love the updated snap handle. It has a very secure snap and the sound is very satisfying. I found so many uses for the handle in just one scene. Pictures can't truly showcase the quality of this item. I spent ages just sniffing the leather."
What I enjoy is the spontaneity it provides. There are so many points of attachment. When I am in the garden, I can snap the handle around the fence or a young sapling so that GoodBoy cant go frolicking off outside the yard or when resting after a walk in the park, the leg of a picnic table is ideal. Indoors, one can quickly scan the room and find endless possibilities. When I want to tease him, I secure GoodBoy to the towel rack in the bathroom and allow him watch me bathe, towel me dry and apply my toenail polish.