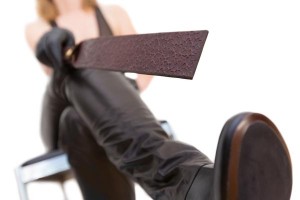 We are taking some time to revitalize our product line and will be introducing new colors and styles for the fall season. Orders placed after September 10 through October 10 will be fulfilled and shipped beginning on October 13th. If you need your item prior to this date, please notify us via email and we will send you a refund. The new paddle featured here has been designed for retribution and intimidation. 16 inches from top to bottom & 2 inches wide. Shown in chestnut with brass fasteners and embossed with our briar patch motif. While we have maintained the oval handle of our smaller version, the striking surface of this model allows one to inflame both cheeks in one blow.
Disciplinary efficiency makes my pulse quicken.
;)
-MM
C'est tout pour l'instant!